full

details
See your business like never before
The flexibility of Pandora means that it can work alongside your existing stock control and client management systems, or alternatively handle everything from telesales to stock control, to creating invoices and delivery notes.
Pandora's power comes from being smart with your business data. The flexibility within Pandora to create different views of your business means that your whole company can reap the benefits.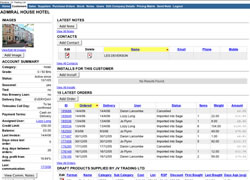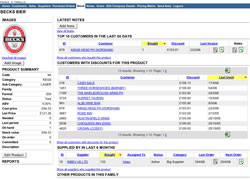 Browser Based
Because Pandora is provided to you securely across the web, there is no hardware or software to be installed in your office, and no expensive workstations to buy. If you can access the internet, you can access Pandora.
But despite the ease of use, Pandora is totally secure - more so, in fact, than most banking websites. Because Pandora uses a combination of user / password, 128-bit encryption , security certificates and pro-active server monitoring, you can be sure your data will always be safe.
The way Pandora is delivered also means that off-site sales staff can access Pandora from anywhere they can get a net connection to their laptop. This can be acheived through their mobile phone, or at one of the more and more prevelant wireless hotspots that are cropping up in pubs, service stations and other public areas.
Features
The following table outlines the core features of Pandora. Click on a feature name to get more information about that feature.
The Level 1 column shows what Pandora can do if used alongside your existing stock and client systems.
To get the most from Pandora, just let her handle everything! The Level 2 column shows you the features of this approach.
Feature
(Click for more info)
Level 1
Level 2
Inventory

Customers

Read only

Notes system

Custom reporting

User permissions

SMS alerts

Full audit trail

Basic support

Import / Synchronisation with current stock system

Stock control

Purchase orders

Suppliers

Price admin

Discounts manager

Deliveries
In addition, there are a number of extra modules that can be added to increase the power of your Pandora implementation :-
Mailshots
A range of custom reports and graphs
Installs
Backups
Enhanced support
Data export
Client reporting
Special offers*
Telesales*
Website integration & online ordering*
Barcode recognition*
* = can only be applied to Level 2 Pandora
For full details of Pandora's features, see the features in detail page.